Governor Lee Hosts Ambassadors ahead of NIICO 2018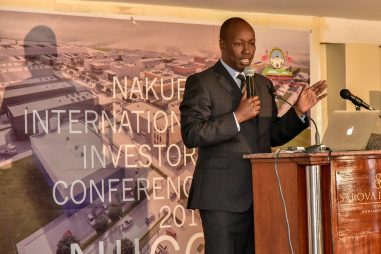 Today we hosted ambassadors and local investors ahead of the Nakuru International Investors Conference to be held in Naivasha between November 29 and December 1, 2018.
Guests at the meeting included Industrialisation PS Betty Maina, Honorary Consul of Republic of Estonia Kadri Humal Ayal, Ireland Ambassador Dr. Vincent O'Neil and representatives from Israeli, Slovak, Russian, Hungary, India embassies.
Nakuru is a premier investment destination. In agriculture, we grow everything except coconuts. We seek to connect investors to farm owners who can lease land for agriculture and industry through the conference.
Nakuru is the only County with geothermal energy. We are seeking direct use of geothermal products (steam) in agriculture such as greenhouses.
Nakuru is also strategically located in terms of tourism. We have hotels and look out to attract more international tourists and investment in hospitality industry because we have not fully exploited our potential.
Nakuru is centrally located and connected to other major towns. This makes it easier to transport or access raw materials. The SGR will get to Naivasha and we also have good road network. We will soon have an airpairport that will open up opportunities.
Nakuru is the largest producer of cut flowers and we hope to access new markets in the US following the launch of direct flights to New York. We will partner with the flower council to send a strong delegation to the US to seek opportunities in this sector.
In Nakuru we have a young, qualified people who can provide worksforce for companies.
We also have an affordable housing project coming up and this is a great opportunity for both local and international investors.
World Bank recently ranked Nakuru third county with highest GDP in Kenya after Nairobi and Kiambu.
A few months ago, we were ranked as the best County to invest in countrywide by the Institute of Economic Affairs.
This means we are good business destination and welcome investors to explore the unlimited opportunities in our County.
Kenya National Chamber of Commerce and Industry Vice Chairman James Mureu, KenInvest representatives and Local investors were also present.